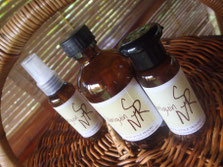 ---
We still to walk in the Path of the Ecology with another small step .
Now the "LAKSHIMI - Wellness & Massage Center" offer...
100% Natural Gel Shower
Room, Linen & Pillow spray (we use a 100% Sugarcane Alcohol)
You can choose a own fragrance from our Natural Essentila Oil.
Click here for more details
~•~     ~•~     ~•~

Continua il nostro cammino nel Sentiero dell'Ecologia
Ora il "LAKSHIMI - Centro Benssere & Massaggi" offre...
Gel Doccia Naturale al 100%

Spray per Ambienti, Biancheria e Cuscini (utilizziamo solo Alcool di Zucchero di Canna al 100%) 
Tu potrai scegliere la tua personale fragranza dalla lista di Oli Essenziali Naturali.
Per maggiori dettagli cliccare qui
---
---