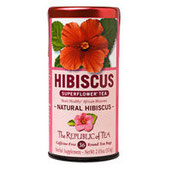 ---
We would like to satisfy all our guest and also who is a Tea Lover.

Very soon will be available some Natural Teas and the choice will become bigger in the next months.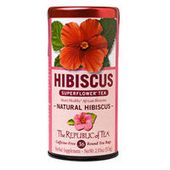 NATURAL HIBISCUS TEA
Ingredients: Hibiscus (flower), sweet blackberry (leaf), stevia (leaf)
Country of Origin: Nigeria
Description: "Ruby red hibiscus shines brightly in this evocatively fruity herbal tea from Nigeria. Sip the pure effervescence of hibiscus. Its crisp, bold juiciness stands out hot or iced. Evokes the thought of a perfect summer day in the tropics".
Caffeine*: this herbal blend is naturally caffeine-free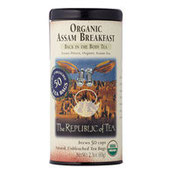 ORGANIC ASSAM BREAKFAST BLACK TEA
Ingredients: Fine unblended organic Rembeng Estate Assam tea
Country of Origin: India
Description: "Back In The Body Tea - The robust, malty character of this tea comes from pure, unblended Assam leaves grown in Northern India. Plentiful golden tips on leaves & hearty body qualify this tea at the top of its class. Certified Assam tea by the Tea Board of India".
Caffeine*: Black Tea has less than half the amount of caffeine per cup than in a similar-sized cup of coffee.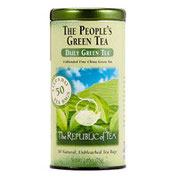 THE PEOPLE'S GREEN TEA
Ingredients: China green tea leaves
Country of origin: China
Description: "this beautifully hued, delicate tea is celebrated for its refreshing, smooth flavor and incredible health benefits. The true essence of this tea will energize harmony and spirit". Formerly Higher Mind Tea.
Caffeine*: Green tea contains less than a quarter the amount of caffeine per cup than in a similar-sized cup of coffee.
GET CLEAN® - No. 7 HERBS TEA for DETOXING
Ingredients: Organic Rooibos (leaf), Milk Thistle (seed), Indian Sarsaparilla (root), Dandelion (root), Chicory (root), Burdock (root), Red Clover (herb). Other Ingredients: Natural Vanilla Flavor, Natural Almond Flavor. CONTAINS ALMONDS.
Country of Origin: Worldwide
Description: "Herb Tea for Detoxing - Had too much of a good thing? Feeling out of balance, a bit heavy or puffy? Then it's time to get clean.
This gentle naturally caffeine-free herbal detox blend helps the body as it helps to stimulate the liver*, one of our natural cleansing mechanisms".
This product contains nuts.
Caffeine*: Rooibos (Red Tea) is naturally caffeine-free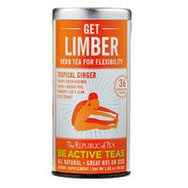 GET LIMBER® - HERB TEA for FLEXIBILITY
Ingredients: Organic Green Rooibos (leaf); Ginger (root); Orange Peel (fruit); Organic Turmeric (root); Lemongrass (leaf); Cat's Claw (root & bark); Yucca Extract (root).
Other Ingredients: Natural tangerine and pineapple flavors
Country of Origin: Rooibos: South Africa
 Description: "Relieving Herbs - We can all use a little assist when it comes to pampering our joints. That's why we created this blend of herbs to help reduce inflammation and allow joints, ligaments and muscles to stretch more fully.* In addition to the organic green rooibos, sourced from Rainforest Alliance Certified™ farms, we've added anti-inflammatory* turmeric, cat's claw root and yucca extract, herbs traditionally used to relieve sore joints.* Ginger root also plays a starring role, helping reduce post-exercise inflammation.
Get Limber was featured in Vital Juice as one of the latest healthy trends to try.
Caffeine*: this herbal blend is naturally caffeine-free.
---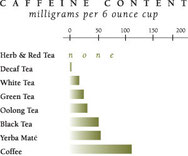 *TEA & CAFFEINE:
Caffeine occurs naturally in tea. A mild stimulant, it accounts for tea's reputation as a beverage that clears the mind and lifts the spirit.
On average, a six-ounce cup of Black Tea has about 50 milligrams of caffeine—less than half the amount in a cup of brewed coffee. The smaller the leaf, the stronger the extraction of caffeine. Using comparable amounts and steeping times, a Tea Bag filled with cut leaves will release more caffeine per cup than Full-leaf Tea.
As you navigate our website you will find details of each tea's caffeine content presented with the tea. Caffeine content varies with manufacturing and growing variances as well as brewing conditions and time. Values are approximations.
---