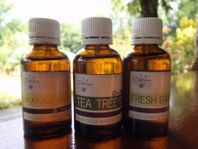 ---
Yestarday new essential oils just arrived.
New choose for your personal massage:
Fresh Bamboo:

have the capacity to counteract free radical damage (antioxidant proprieties), reduced inflammation and can be considered a treatment or prevention for cancer.

Orange & Ginger:

orange

helps with colds and flu, eliminates toxins, boost the lymphatic and immune system and helps ease nervous tension and stress Ginger hes with arthritis, rheumatism, lethargy, nausea, colds and flu, muscle aches, poor circulation and digestive upsets

Tea Tree Oil (China): helps with all respiratory ailments, as well as arthritis, colds, dermatitis, skin infections, scalp disorders, sinusitis, viral infections, nettle rash, babies colds and coughs, bronchitis, as well as for sweaty feet.
Come to try them...
---