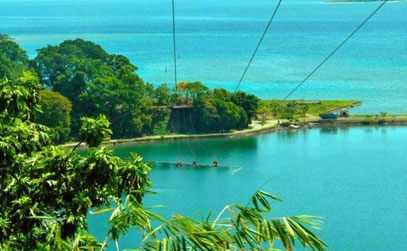 Experience the three-lane zip line at Benoni Lagoon in Mahinog, Camiguin island.  The zip line has a distance of more than 700 meters from Station 1 to Station 2, crosses over Taguines lagoon while overlooking the coast of Benoni and Mantigue island which can be seen from a distance. An additional 360-meter zipline is also being eyed in same area.
~   ~   ~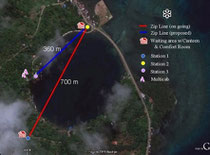 Nuova esperienza e attrazione a Camiguin, la Zipline Adventure a Benoni, presso la laguna di Taguines.
Lanciarsi dalla prima stazione per 700 mt, sorvolando la laguna, ammirando la costa di Benoni e in lontananza la meravigliosa Mantigue Island per arrivare alla seconda stazione, dalla quale parte la seconda tratta, 360 mt, che sorvola ancora la laguna per arrivare vicino al ristorante J & A Fishpen.
Php 400.00
http://pinoyadventures.com/camiguin-benoni-zip-line/
---
---